Canara Bank RTGS / NEFT Form PDF Download
Download Free of Canara Bank RTGS / NEFT Form PDF Download by using the Direct download link from banksguide.in is given below.
Canara Bank RTGS / NEFT Form PDF Download Link 
| | |
| --- | --- |
| Name | Canara Bank RTGS / NEFT Form |
| Pages | 1 |
| Size | 0.46 MB |
| Language | Hindi |
PDF :
Double click to Download PDF
---
Click Here to Download the PDF
Canara Bank RTGS / NEFT Form
NEFT or National Electronic Fund Transfer is a simple fund transfer option that is accessible nationwide. This facility allows customers to make online and offline transactions to transfer money remotely to a beneficiary account. All you need to ensure is that the beneficiary account is held in a bank that is participating in the NEFT Scheme.
Until your net banking or mobile banking account has been activated, it is a good idea to make your NEFT Transactions offline by filling out an application form. You can get this application form at your nearest Canara Bank branch.
You also have the option of downloading a PDF Canara Bank NEFT form on the official Canara Bank website. Below is the Canara Bank NEFT Form.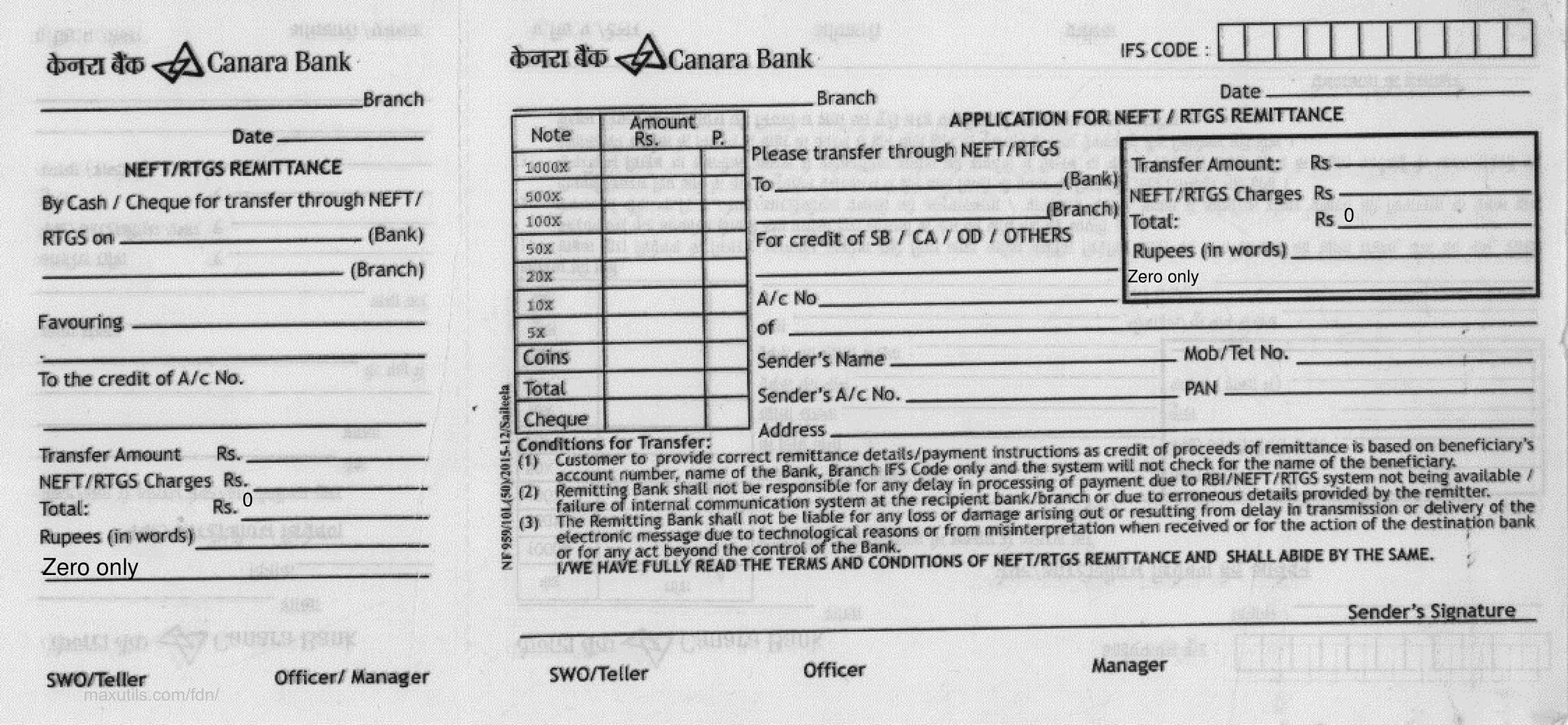 This will help you to simply print and submit.
With these forms, you will be providing necessary details for a successful NEFT transfer including:
Account number of the beneficiary
IFSC code of the beneficiary
Name of the beneficiary
Account number of the remitter
Mobile number of the remitter
Name of the remitter
What are the Canara Bank NEFT Charges?
No charges are levied on NEFT transactions initiated online via internet banking and/or mobile banking. NEFT transactions are chargeable per transaction that you carry out. Only inward NEFT transactions are free of cost and do not incur any of the following charges. Following charges are applied on NEFT transactions initiated at the bank:
| | |
| --- | --- |
| Transaction Amount | NEFT Charges |
| Up to Rs.10000 | Rs. 2.50 per transaction |
| Rs. 10001- Rs.1 lakh | Rs.5 per transaction |
| Rs.1 lakh to Rs 2 lakh | Rs.15 per transaction |
| Above Rs.2 lakh | Rs. 25 per transaction |
Standard GST is applicable on the prices mentioned above.
Details of NEFT timings as per the Reserve Bank of India are as follows:
NEFT payment system is available 24×7 for 365 days, including holidays.
There are 48 half-hourly batches in a day. The settlement of the first batch starts at 00:30 hours and the last batch ends at 00:00 hours.
NEFT transactions after usual banking hours of banks are expected to be automated transactions initiated using 'Straight Through Processing (STP)' modes by the banks.
What are the benefits of Canara Bank NEFT?
Convenient option to make fund transfers on the go.
Reliable option as it is governed and monitored by the Reserve bank of India.
Available 24×7 for 365 days.
No charges on online transfer of funds via NEFT.
No minimum limit or upper limit on the amount that you can transfer via NEFT each day.
The charges are extremely nominal compared to other fund transfer options that are available.
Pay Attention
If the download link of the Canara Bank RTGS / NEFT Form PDF Download is not working or you are feeling any other issue with it, then please report it by choosing If the Canara Bank RTGS / NEFT Form is a copyrighted material which we will not supply its PDF or any source for downloading at any cost.
Alternate Links for Canara Bank RTGS / NEFT Form PDF Download
You can also visit the official / source website to download the PDF from following links: https://banksguide.in/